Be sure to visit our sponsors and thank them for their generosity!
Our 26th Annual Bridge Walk was a huge success! Record-breaking crowds and funds raised! Almost ten thousand dollars benefiting the Lovells Township Fire & EMS Department!
Don't miss next year's event scheduled for Saturday, August 18th, 2018!
Luncheon will again be sponsored by dead Bear Brewing Company!
Begin your day with the Fireman's Pancake Breakfast under the Pavilion from 8 AM to 11 AM.
$5 suggested donation.
Buses will begin shuttling to the parade route at 11:30 AM.
Parade and Bridge Walk commence at noon followed by the community luncheon!
50/50 drawings and prizes throughout the day. Silent Auction. Children's games.
Fun for the whole family!
All proceeds benefit the Volunteer Fire & EMS!
Special Thanks to our Luncheon Sponsors:
dead Bear Brewing Company Owners, John & Joan Petroff along with their crew-Charlie & Sherry Cadeau, Dale & Char Gauthier, Peter, Bill Gergosky & Chris Hoover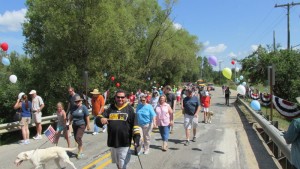 Thank you to all our sponsors:
7 Eleven-Grayling
AK Hair Studios
Alpine Tavern
AMI Industries
Bennethums
Billy & Laura Jacobs
Blind Squirrel
Caid's Corner Store
Call of the Wild Museum
Cindy & Denny Inman
Clay Inman
Coca-Cola
Dawson Stevens-Bear's Den Pizza
Dubois Lumber
Eagle 101.5
Fabiano Beverage Co.
Family Fare Grayling & Lewiston
Feeny Ford
Flowers by Josie/Thanks a Latte
Fuller's North Branch Outing Club
Garland Golf Course
Glacier Ice
Goodale's Bakery
Gray Rock Pub & Grub
Grayling Restaurant
Hallmark-Grayling & Gaylord
Heather Lovell
Jay's Sporting Goods
Kellogg's Bridge Grocery Store
Kyle Duba-GFS
Leonardo's Produce
Lewiston Lodge
Lovells Home Center
Lovells Riverside Tavern
Lynn Hoehn
Marty & Debbie Pawlowski
McLeans ACE Hardware
Medicine Shop
Merchandise Outlet-Lewiston
Michaywe
Monster Beverage Co.
North Country Corner
Northbound Outfitters
O'Reilly's Auto Parts-Grayling
Otsego Golf Club
Paul's Pub
Pepsi Beverage Company
Pizza Hut-Grayling
Q 100.3
Ron's Fly Shop
Sally Brand
Saturn Bookstore
Save-A-Lot –Grayling & Gaylord
Spike's Keg-O-Nails
Suzanne Rieder
Talley's Log Cabin
The Brickery
The Menu
The Ridge Golf Course
Tim Riley
Tinker's Junction
Tip-N-Mitten
Tree Tops Resort
True Value
Twin Lakes Auto Repair
Villager Restaurant
Walmart

Warblers Hideaway Homeowner Association
Xpress Copy Center
Special Thanks to our Luncheon Sponsors:
dead Bear Brewing Company Owners, John & Joan Petroff along with their crew-Charlie & Sherry Cadeau, Dale & Char Gauthier, Peter, Bill Gergosky & Chris Hoover