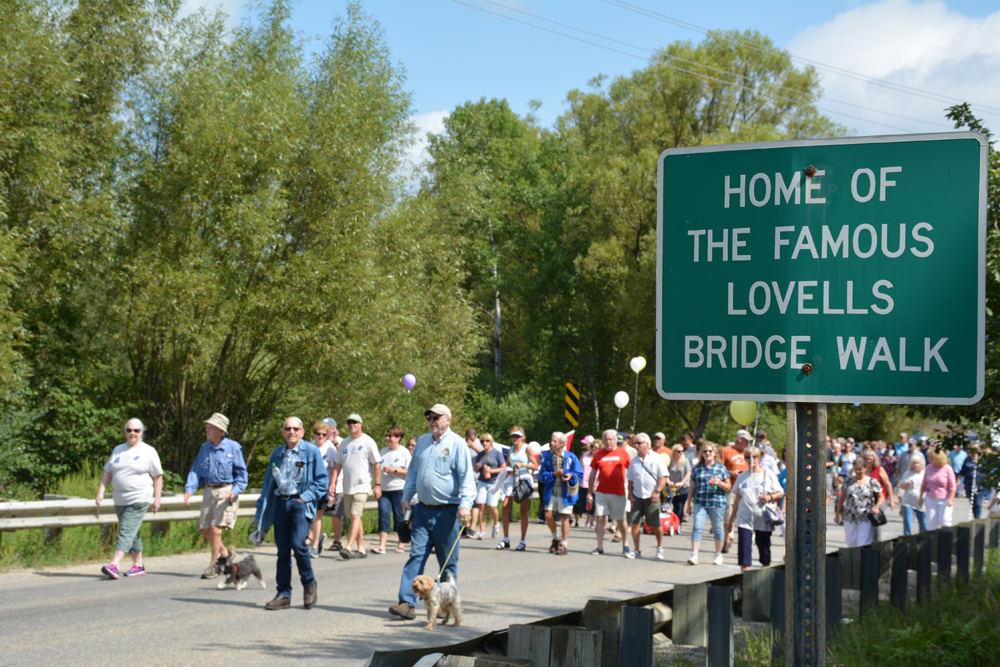 Once a year on the third Saturday in August residents of Lovells Township gather together to support the brave men and women who service the community in the local Fire and EMS Department by raising money, and this year our 26th Annual Bridge Walk was an overwhelming achievement. This small way of giving back every year has been a great way for the men, women, and children of our shared society to rekindle our sense of unity and let each and every person know that in Lovells Township we protect one another.
This year's incredible success could not have been possible without the ample support provided by both the members of the township, as well as our numerous generous sponsors. We are so proud to have continuous encouragement from so many big brand companies like Pepsi Beverage Co., Coca Cola, and Wal-Mart, who are actively trying to make a difference, but we can never forget or neglect the invaluable support provided by local residents and business. It is truly these friendly local restaurants and businesses along with the hard-working families that own and operate these establishments, that make Lovells Township the kind of place where an event like our Lovells Township 2017 Bridge Walk can be such an outstanding success.
With over $8,500 raised for our incredible local heroes, we can accomplish a number of goals and acquire better equipment that will help improve the efficiency of our local Fire and EMS Department services, benefiting everyone. With a number of games, food, and a parade for families and kids, the point of the event is to encourage awareness and charity in a fun and exciting atmosphere, and it seems this year we have broken records with our accomplishments. For over 25 years, participants have come together on behalf of our emergency service personnel, but as over 300 people walked the famous Lovell Bridge in unison this year, the realism of our sincere care for one another was a unique and breathtaking experience for everyone.
There's nothing better than feeling completely comfortable and at peace in your community, knowing your safety and well-being is important to not only your local government, but also your neighbors. Our Lovells Township Annual Bridge Walk serves two purposes: to actively raise funds to provide safer more reliable emergency services to better safeguard each resident, and to encourage behaviors and attitudes that support the values that make Lovells Township the unique place that it is. Every year we expect people to come and enjoy the food and fun, and every year we are taken back by their remarkable generosity.
Thank you so much to all who donated, participated, cleaned up after, or even just came out to see what we are about, and a special thank you to our incredibly hard-working luncheon sponsors at Dead Bear Brewing Company. Every dollar, every prayer, and every helping hand made a difference for our community, and we can't wait to do it all over again next year! See you August 18, 2018!