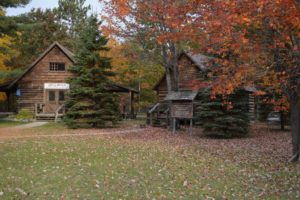 The Lovells Township Historical Society would like to invite you to visit us again this year.
Our theme this year is "Artisans of the AuSable."   Both museums will be filled with wonderful crafts and artwork on loan to us made by local folks.  We hope you'll enjoy it!
Because of the type of displays this year, but also, going forward we have decided to institute a new policy for visiting our museums.  We have tried to keep the museums open to everyone with no conditions attached; however, we are going to request that children visiting either museum must be accompanied by a responsible adult.  A museum is not a place for children to come to "hang-out" without parental or guardian supervision.  It is not new for museums to have this policy in place; we decided it is time for us to be following this practice to protect our displays and the investment in our museums. We hope you will understand. 
Although most all of the artworks and crafts will be on display all season in our museums, on specific Saturdays we will be highlighting one of the subjects.  All those that contributed to our display have been invited to bring more of their craft or art and stay and talk to our friends who visit.  Below you will find the schedule for our season
April 30th   Trout Opener, Leak Wader 1K Fun Run and Museums open on Saturdays for the season
May 14th    Rod Makers show off their work. Cast a bamboo rod or two and have some fun!
May 28th    Fly Tyers!  Some of the best tyers are from our area!  Bring your vice and materials and learn a new thing or two!
June 4th      Quilting and Fabric Arts.    Many of our local quilters and fabric artisans have contributed to this display.  They will come and share their ideas and show off other completed projects that we didn't have room for in the museum!
June 11th    AuSable River Boat Makers.  Have you ever wondered what it takes to build one of those beautiful flat bottomed wooden boats?  Come and see them in our yard and talk to the boat makers!
June 25th      Wood Carvings, Painting, Pottery, Sculpture-OH MY!!! SO much talent shown off this Saturday!
August 13th   Photography   We have some amazingly talented local "hobby" photographers in our area!  These are not professionals, but you'll be amazed at the images they produce.
August 27th   Cabin Quilts   A unique idea brought to life by a local resident – Marcy will be available to share ideas and tips for making your own beautiful "Cabin" Quilt to hang at your home!
Sept 10th   ART SALE!!!  Closing out the season we will have an art sale by some of the crafters you've seen over the season and maybe a few others.  They have generously decided that all or a portion of their sales will be donated back to us.  The spirit of giving back to your hometown lives here in Lovells.  We hope you'll join us!  As always, thank you for your continued support of Lovells Township Historical Society and the respect you pay to the displays each year!  Without that we could not exist!